Full disclosure: I am not a theatre person. Apart from the plays we read in school as part of the curriculum, my knowledge of theatre is very limited. When people tell me they love theatre, I usually put them in the same category as people who love to go to the museum(an unsustainable passion in Uganda) and people who love bird watching (too mzungu).
The last time I went to watch a play was December last year and it was one of those experiences you want to block from your memory and pretend they never happened. The play was five hours long and every so often the actors would stop to recap for people that might have come in late, forgetting the rest of us that had been there the whole time. There was some good acting but there was mostly horrible, horrible acting. When I was not holding an imaginary gun to my head and blowing my brains out, I was in tears because of some of the things they said. I don't know why but we stuck it out to the very end and got ourselves a horrifying "there is this one play we went to watch" story that we sometimes tell our friends.
When the Kampla International Theatre Festival came around, I thought I could interview Deborah Asiimwe (Sundance Institute Theatre Program staff member and co-curator and producer of the festival) for the blog. I sat at my desk for hours and I could not find the right questions to ask. So I decided I would go to the theatre as a learner. To learn how to enjoy this and to see what good theatre possibly looks like.
I am very thankful that the first play I watched on Wednesday was Ster City (South Africa) because now I am thinking, "If the rest of them are like this, then I am in the right place!"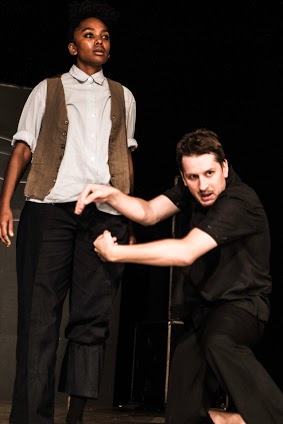 Ster City is about prehistoric and present day South Africa presented by Dominique Lentin (on instruments), Lindiwe Matshikiza and Nick Welsh (acting). Remember The Great Trek and The South African Wars and The Boers And The Zulu Kingdom and all that stuff we learnt in South African history in high school? It was all there but better delivered than your high school history lessons.  The play opened with Lindiwe speaking French and my dusty French got itself worried sick but Nick later came in with English translations infused with Luganda words. When I heard the Luganda I thought they had asked some Ugandans to take part in the play but then Nick showed up on stage and he is South African. And white. They had me at that point.
Throughout the play, they used dance, videos, music and a play on lights to tell the story, all the while using English, French, Luganda, and some languages from South Africa. They explained the physical setup of South Africa and how it came to be and drew comparisons between South Africans and Parisiens.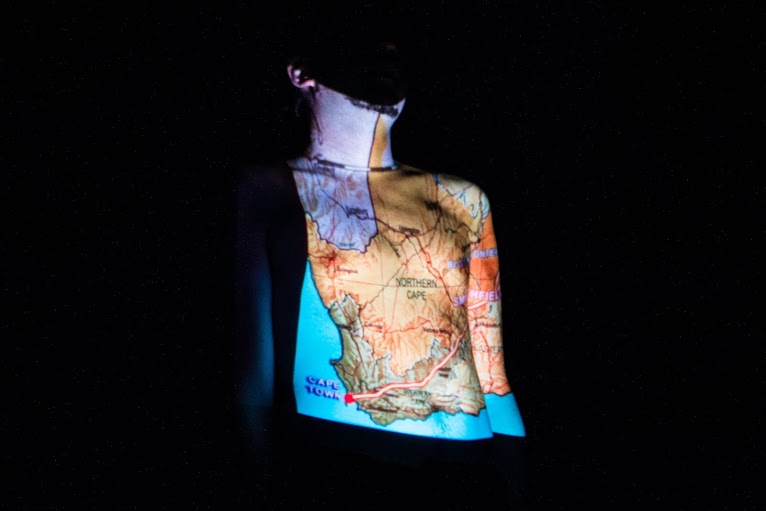 It sounds like a boring educative play but it was far from it. They showed the audience how South Africans dance with their faces (and not just their waists) and how they once saw a woman in Paris who was trying to dance but her waist could not move at all. Lindiwe showed how she has to act crazy when she has to move around Jo'burg at night and is scared. And then of course came the point when Lindiwe asked : Nick, are we going to talk about apartheid?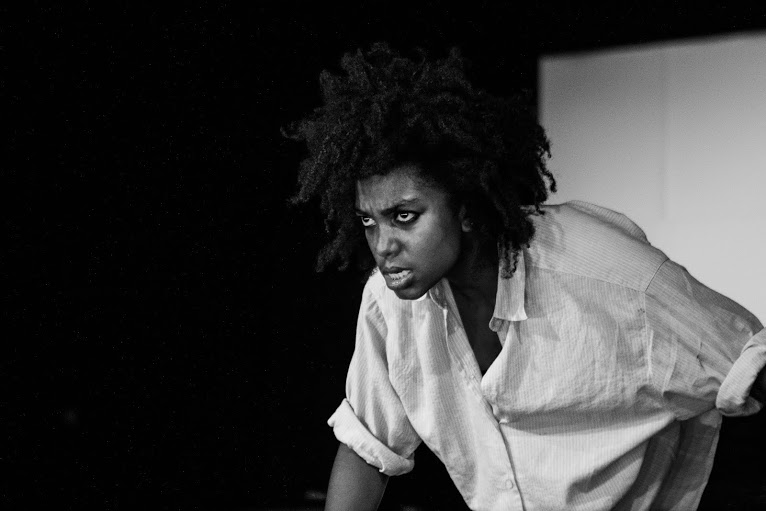 It's the most obvious question everybody has on their minds when it comes to South Africa. Earlier on before the play, the delegate from the South African embassy had spoken  about the theme of this year's 20 year celebrations of South African democracy: South Africa has a good story to tell. With Ster City, you could tell that there are many stories about South Africa that could be told: good stories, bad stories, stories that confuse them (You are who, you? Don't speak English, Nick. Don't speak, French Nick. Don't speak Afrikaans, Nick). There are stories about mixing and intergrating and also, understanding each other in the face of all this history.
After the play, in an audience interview with Nick and Lindiwe, they revealed that they have staged the play in 11 African countries and they try to learn as many of the languages as they can so they now know words from about 40 languages.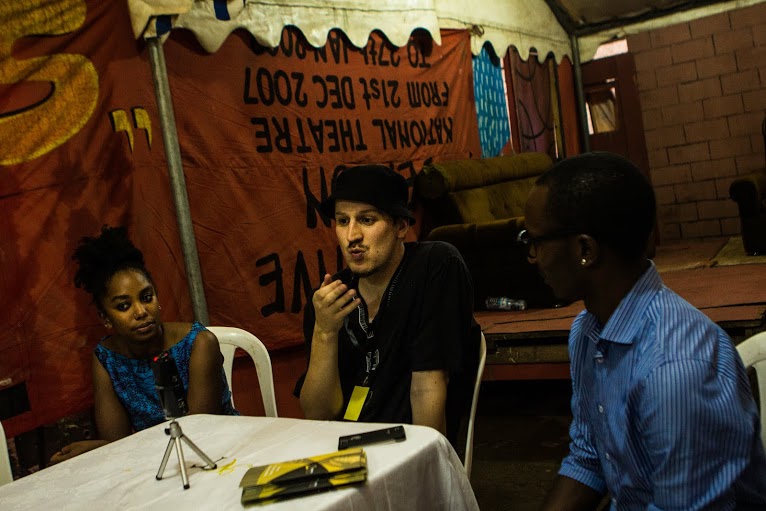 Lindiwe: We translate a few lines and record their pronunciations and spend many hours perfecting that.
Nick: Luganda was not so hard because it is similar to the Bantu languages in South Africa.
Ster City was a good one to start with because it made me look forward to the rest of the festival. The festival is still going on till Sunday with more plays over the weekend. There are plays from Rwanda, Kenya, Tanzania, Ethiopia and Uganda today. Here is the programme: Kampala International Theatre Festival
All photos (used with permission) are by Daniel Gilbert Bwette for Kampala International Theatre Festival. Thank you, Bwette.