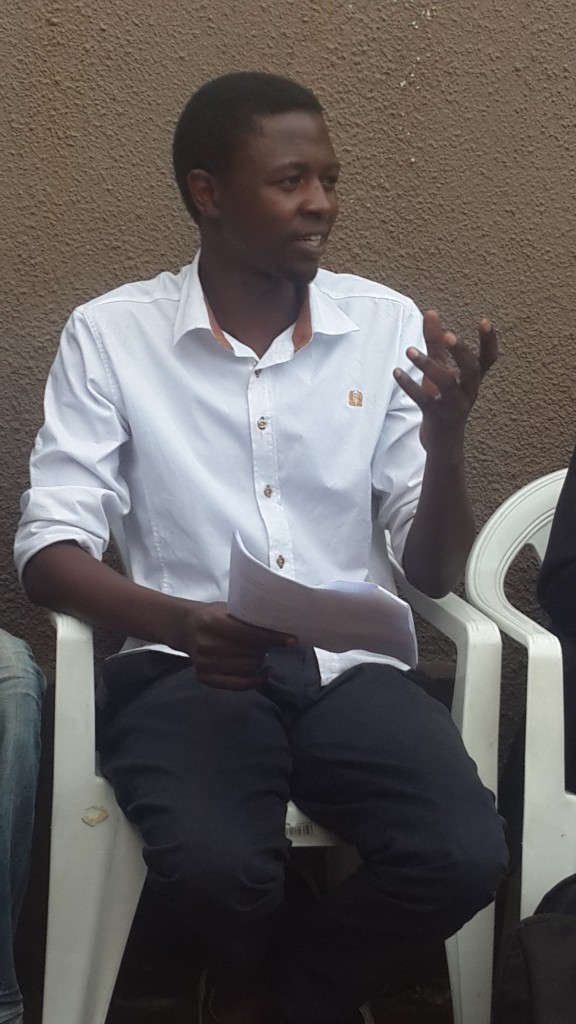 The last time we spoke about Peter Kagayi on this blog was when we were talking about the Lantern Meet's schools outreach programme. He was still the Lamp/President of the Lantern Meet but he has since left. A few weeks ago Kagayi invited me to a new poetry night that he was putting together. I failed to make it for the first one but he said it was going to be a regular feature. I kept wondering how he was going to pull that off; perform his poetry every month.
At the Big Hut at National Theatre, Kagayi welcomed us and apologised for the delay. A piece of paper was handed out with the names and bios of the different performers for that night. An impressive line-up with names like Dr Charles Mulekwa, Beatrice Lamwaka, Xenson, Jungle De Man-eater and quite a number of students that were performing for the first or second time.
Most of the first timers read their poems from their phones so it wasn't much of a performance from them although a good number of them were committed to the messages in their poems. The messages from the night varied from faith, body intrusion, experiences with the many beggars on our streets, and many of the poets were big on identity.
"In a country poorly governed, wealth is a shame."- Derrick Achellam, Now I Will Be Great.
Beatrice Lamwaka read her poem from A Thousand Voices Rising both in Acholi and in English. She was the first of the poets to do a poem in her local language but wasn't the last. Xenson in I am performed both in English and Luganda and Jungle De Man Eater, the Lusoflow artist, performed Mutaayi Wange in Lusoga.
"He who is behind the gun, lives forever." Rachel Asio, We Want War
You have to watch Xenson at least once to really understand what he is about. I immensely enjoyed his carefully crafted lines and his word play (both in Luganda and English) is on another level. While his poems are potent with society-changing messages, you can tell he pays as much attention to the message as he does to the aesthetics of the poems.
Later when he was called up to talk about his poetry, he turned to the students to encourage them. He was a Sciences student, having come from a family of doctors who quit to join the arts where he felt his heart truly is. He now runs an Art For Wear Fashion label, has live grafitti performances and has performed at various poetry and hip-hop shows.
Alongside Ibrahim Balunywa's name in my notes I wrote: One to watch! I first saw Balunywa perform at a Lantern Meet Poetry recital and his performance stuck in my head. At the poetry night he performed two poems, Can you Save The World? and another that was a tribute to another Ugandan poet, Slim MC. What I loved most about his performance last Tuesday was his incorporation of music in his performance. He had a reggae vibe going on complete with lines like "I am a Jah soldier" and that chaa! cry that musicians like Alaine shout out when they are performing. His word play is sick (for lack of a better word) and I reckon when he steps away from the reggae influence, he will be a much better performer. Don't get me wrong, I have no problem with performers being influenced by whatever but when your influence is so heavy that it distracts  your message, it does you no favours. It does you no favours when "world" sounds like " warrrr" when you perform especially if your writing is so good it needs no gimmicks. Other than that, I loved his message.
"Can you start a revolution even if it's not televised?" Ibrahim Balunywa, Can You Save The World?
I was disappointed in just one performer, a first timer, reading his first poem that he confessed to have written 20 minutes prior to the show. Now I know there are writers that come already made but for most people, there is need to spend some time editing, rewriting and perfecting their work. Writers should never take for granted their audiences thinking that something they wrote just a few minutes before would be good enough.
Did Kagayi even perform? Yes he did. One poem. I later understood what the night is about. This  night is not a one man show. It is what it would feel like if Kagayi invited us to his home for poetry with his friends. He made sure to involve the audience as much as possible asking us to give feedback to some of the performers and asking whether the timing and the scheduling of the shows is comfortable with everybody. And it could be because he is a teacher, but you could see he is still very much into nurturing the younger poets encouraging them to keep at it after their performances. Because this show isn't about the numbers but about the quality of the experience, it is exclusive but you can secure yourself a seat if you send Kagayi a message.
See you on 8th September for his next poetry night!