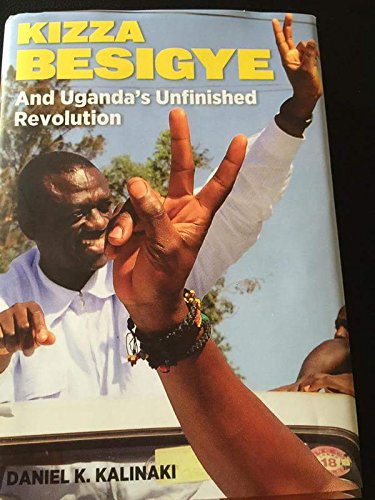 Review by Samira Sawlani
Since President Museveni came to power almost 30 years ago, the political landscape of Uganda has evolved and simultaneously remained stagnant. Laws have been made and broken, individuals have come and gone through the gates of Government and battles have been lost while wars have been won. Yet within this myriad of changes a lot has remained the same. The door to power has been a revolving one, the same faces coming in and out. The status quo has continuously been sustained and many, absorbed by a sense of powerlessness have struggled to challenge it.
However in the midst of it all there are those who have gone where many have feared to enter, those that have stood back up after every knock (sometimes quite literally). One such example is opposition leader Dr Kizza Besigye. For years Ugandans have watched Besigye take a starring role in the cinema that is this country's politics; for some the hero, for others the villain. Yet much of what we know about him is formed by how he is framed by the media, by the Government and by those that support or oppose him.
Where did he come from? How did he rise through the ranks to make it into Government? What was the catalyst that led him, a man who was once the personal physician to the President, to desert those in power? And why when so many of his peers were willing to turn a blind eye to the deficiencies of the ruling party so they could enjoy the spoils on offer? Was he not seduced? There are two major questions which most Ugandans have long asked when it comes to Besigye; what exactly led to Besigye's fall out with President Museveni and what was the real story behind that alleged love triangle involving him, his wife Winnie Byanyima and the President.
The man himself and these questions form the subject of renowned journalist Daniel Kalinaki's book, Kizza Besigye and Uganda's Unfinished Revolution. The book charts the journey of Besigye starting from his childhood in Rukungiri to working alongside Museveni against the Obote 'regime' and finally, to leading an opposition movement.
The backdrop to the story is a Uganda re-emerging from decades of abuse by tyrants of yester-year. Kalinaki provides a concise account of the history of the country and interwoven into it are the stories of Besigye, Museveni and their respective parties and causes. This perhaps is where the book triumphs. In one volume the reader gains an insight into Besigye the man, the evolution of Uganda and the sins and successes of a government which has possibly outstayed its welcome.
In recent years, Besigye has often made headlines for his acts of rebellion, his inability to be silenced and refusal to stand down. The book goes into detail offering accounts of every beating, imprisonment and act of injustice forced upon him by the powers that be. In the midst of this he becomes a husband and a father, and one cannot help but think that this is what he sacrifices in order to continue with his quest for success. Years are spent in exile, away from his family and home; was it for personal glory or an act so altruistic as being for the good of the nation?
While this story is told through accounts provided by Besigye, his wife Winnie and many others that have fought by his side and against him, Kalinaki makes a concerted effort to shed light upon the huge differences between the Museveni of 1986 and the Museveni of 2016.
Prime example of this is an account of a meeting as the NRM prepared to take power; Museveni asks how long they should stay in office, and as suggestions of five, seven, 10 years are heard he responds with 'two years' as soldiers like them had no business staying in power. This is but one anecdote written about in the book which illustrates how Museveni and his supporters have embraced and encouraged those same defective traits which they had so been against.
Some have accused Kalinaki of failing to be objective in his observations of the Ugandan Government and of Besigye. Others have suggested that the book struggles to provide a nuanced perspective on why leaders like Museveni are able to hold on to power and does not address the real problems and potential solutions required to treat the ills of Uganda today.
However, the book neither poses as an analytical tool nor sets out to gauge the conditions which have presented themselves in Uganda and the rest of the continent as being ideal for leaders to outstay their duration in power. Kizza Besigye And Uganda's Unfinished Revolution is first and foremost about the man in question; who, many would argue continues to fight a losing battle. Specifically stated in the author's note is the fact that it 'does not tell all sides of the story, but tells it through the political journey of Besigye'.
Kalinaki's writing is so compelling that the reader is reeled in, experiencing the nausea of Luzira and the displacement of exile. Alongside this are the sadness, disappointment and anger at the injustices against an entire nation which based on the accounts given in the book are executed by the hands of a powerful few.
There are two sides to everything and this is Kizza Besigye's, a voice many have committed themselves to trying to silence. The book is a must read for it tells the story of a man who has continued to be a thorn in the side of the government today, furthermore it keeps alive the names of the many who have lost their lives fighting for this country and the sacrifices made by individuals, including Museveni, to bring about peace.
Samira Sawlani is a writer and journalist specialising in politics, economy and development of East and Horn of Africa, in particular Kenya, Uganda and Somalia. A holder of an MA in International Studies and Diplomacy from the School of Oriental and African Studies, London, she has written for numerous publications both inside and outside of the African Continent.
Aside from journalism she has also worked in the emergency humanitarian relief and refugee care sector.
Twitter: @samirasawlani
///
Kalinaki will be speaking about writing non-fiction at the ongoing Uganda International Writers Conference.
Follow the conversations here:  #AWTConference2015
To order a copy of Daniel Kalinaki's  Kizza Besigye and Uganda's Unfinished Revolutions, call +256781400484 or email: info@besigyebook.com
In Nairobi the book is available at Bookstop, Yaya Centre & Books Parlour, Bandari Plaza Westlands.